MFI "SMART CREDIT" LLC, tax code 1010609001442, located on 10, Nationala, Ungheni city, Republic of Moldova started on May 5, 2010. Its premisses are in 10, Nationala street, Ungheni, and in 73, Mihai Eminescu street, Calarasi, banking hours are Monday through Friday from 8 – 12 and 13 - 17. In case of need, we keep our counters open, if useful even on Saturday or Sunday.
In 2014 the share capital was again increased to 2,061,798 MDL. The allocation of the shares remained more or less the same. The total equity per sept. 31st, 2015 is 5.311.245 MDL.
Currently, the organization operates in the Ungheni and in the Calarasi regions, offering loans to privates enabling them to repair their houses, consumer loans, mainly for computers, but also for buying household equipment, loans to businesses in order to foster trade and commerce.
Within the next 3 years "SMART CREDIT" wants to develop into a multibranch, modern institution of microfinance that reacts flexibly to customer wishes, that is equipped with state of the art technology and an information system that allows the management to react quickly.
If and when the Republic of Moldova realizes a closer approach to the EU – and the relevant documents have already been signed – Ungheni and it neighbaring regions will play an important part, being the border city to Romania.
You can finance SMART CREDITs clients through kiva website.
Thank you for you help ! https://www.kiva.org/lend?partner=454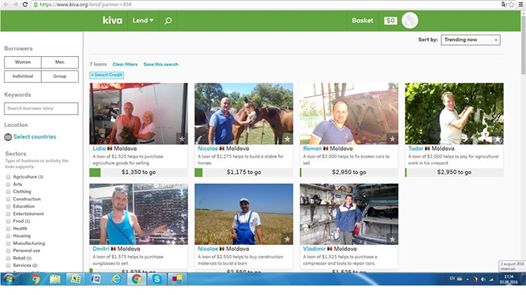 10, Nationala street, Ungheni city, phone +373 236 2 75 95, 0 677 043 43 e-mail
[email protected]
,
73, Mihai Eminescu street, Calarasi city, phone +373 244 2 64 47, 0 677 043 61,
[email protected]


© 2013 - 2016 SmartCredit. All rights reserved.